(Two years ago the hospital jolted my life to take an unfortunate turn. It's a well maintained medical set up with a huge frontage of trimmed gravel paths lined by huge trees, a small patch of garden in one corner, and a small temple. It had an uplifting milieu that cared for hundreds of patients and those who accompanied them in big numbers. The hospital played a melancholic duty in my wife's mortal journey of cancer and witnessed its inescapable sad climax.)
The brightly glowing neon signboard of the hospital evokes too many old memories.
The hospital was next to the newly widened road operative from a year. And the road also-ran adjacent to my school campus where I lived, and it has become less tiring to drive and get into the city.
I wouldn't come upon any worthwhile obligation to hop into the city every day: a matter of thirty minutes behind the steering. But once in a while it felt too weary and drove an urge to beat the monotony of staying alone and glued to books and computer for stressful long hours. Occasionally I count on a long ride as an excuse to relax and do nothing.
THE HOSPITAL AND MY STIFLED SENTIMENTS:
"I swallow an awful feeling, on the way back home, at late nights, watching the huge neon display of the super specialty hospital bouncing off a harsh reflection on my car's front glass. I drove slowly bringing into view the rear side of the hospital building; almost hidden in low light, partially lit by the sign board's brightness: the staircase, the zigzag of the ramp leading to the upper blocks of the building. I could make out a few shadowy folks tossing around, perhaps, the attendees of the patients tucked in rooms across the long corridors".
As I moved past by the hospital, ten more minutes to reach my home, a torrent of events that revolved around the hospital caused some uneasy groans deep inside. Two years ago the hospital jolted my life tumble upside down. It's a well maintained medical set up with a huge frontage of trimmed gravel paths lined by huge trees, a small patch of garden in one corner, and a small temple – a wholesome milieu that cared for hundreds of patients and those who accompanied them in big numbers.
The hospital played a melancholic duty in my wife's mortal journey of cancer and witnessed its inescapable sad climax.
Though the hospital favored by many and well governed in the neighborhood of where I lived, I was not sure why I didn't consider for the treatment for my wife. Until I met a doctor and he was my student.
A DOCTOR AND A STUDENT:
I was waiting in a hotel lobby; he tapped on my shoulder gently; I turned back and saw a youngish looking lean personality smiling at me knowingly.
I wasn't quick to respond, but he seemed eager to shake my hands.
Noticing a puzzled trace in my eyes, he offered his hand and said, 'I'm your student Sir, and I'm Dr. Ganesh." He further added, what was his specialization, where he was working and a few reminiscences about his school days.
A few moments later his words had become soft; when he hesitantly asked, 'How is the madam, she taught me English, I heard she is not keeping well." Being a doctor and my former student I noticed an affectionate glint in his eyes.
"Can I come and see her once sir", was his next modest request.
I immediately couldn't give the consent but jotted down his mobile number and promised to call him the next day to fix a time for his visit.
A strong woman:
Because I knew my wife was not so keen to meet any visitors, she was not the type who would appreciate anybody speaking to her the 'feeling sorry' words, forecasting claims that everything will be fine, needn't fear and the standard clichés that transpire when one learns someone was ailing.
Hence, I'm not permitted to receive any friends or relatives without consulting her.
A STRONG WOMAN:
My wife was an incredibly strong woman. She took care of our two children through their school and college and later when they got married saw that we continued as a strong, supportive and caring family. She was a forceful administrator in the school we jointly managed and she never once found a reason, at any time, to hide behind her husband.
Now I find her strapped to her bed, confined for her mobility in a wheelchair, she looked pale and emaciated, and terminal cancer consuming her from inside. I don't venture a guess how long she would be in this comfort care. And she was strongly averse to allow any relatives or colleagues to visit and mouth a few sympathetic words for her.
THE DOCTOR'S SUGGESTION – LET'S CHANGE THE HOSPITAL:
The next day I called Dr. Ganesh and fixed a time to call on my wife. A former student and being a doctor was a courteous mix, and she readily agreed, perhaps, she expected a consoling relief speaking to him.
I have not intervened to participate in the meetup of my wife and the doctor. I imagined that she might want some unobtrusive space to share a talk about, perhaps, her protracted clinical status she has been silently enduring for more than a year and a half. It surprised me as I recalled she never made any demands, to trouble me emotionally by posing distressing queries about her condition. I supposed it was her unspoken belief, in all of our thirty-four years of living together, that I could never stand to look into her eyes and give a plausible reply.
The next one hour Dr. Ganesh and I sat in my study, and he had many questions, solutions, and quick planning to do.
"Sir, let's change the hospital', I noticed an urgency and choking in his voice.
There are a few praiseworthy cancer care hospitals in our city of over fifteen lakhs residents. Among them, none measured up to the clinical standards worthy of extreme care, hospital environment, and standard hygiene guidelines. My wife endured poorly ventilated, badly maintained hospital rooms, looking helplessly at scores of cancer patients at various degrees of agony and stress made to wait for the oncology specialist to arrive. We had only two cancer specialty hospitals the other was awful than the one we are tolerating.
The doctor had given his advice, and it allayed like a cool shower to my parched capacity came with enormous strain to look for those hospitals and doctors to ensure a comfortable palliative treatment for my wife.
"Sir, madam's reports suggest bleak prospects, I believe from here on she may have to spend her life within four walls and on pain medication."
"For how long, I don't know," he couldn't further speak, his words trailed off. He sounded now more like a professional doctor than my student.
THE NEW CANCER FACILITY:
His idea was to shift my wife to the hospital close to my home, a ten minutes' drive. He further informed that the hospital had now a new cancer block where the quality of care was of a high standard. "I recommend madam to receive a further line of treatment from this hospital; it suits her well emotionally" He left wishing me everything will be fine.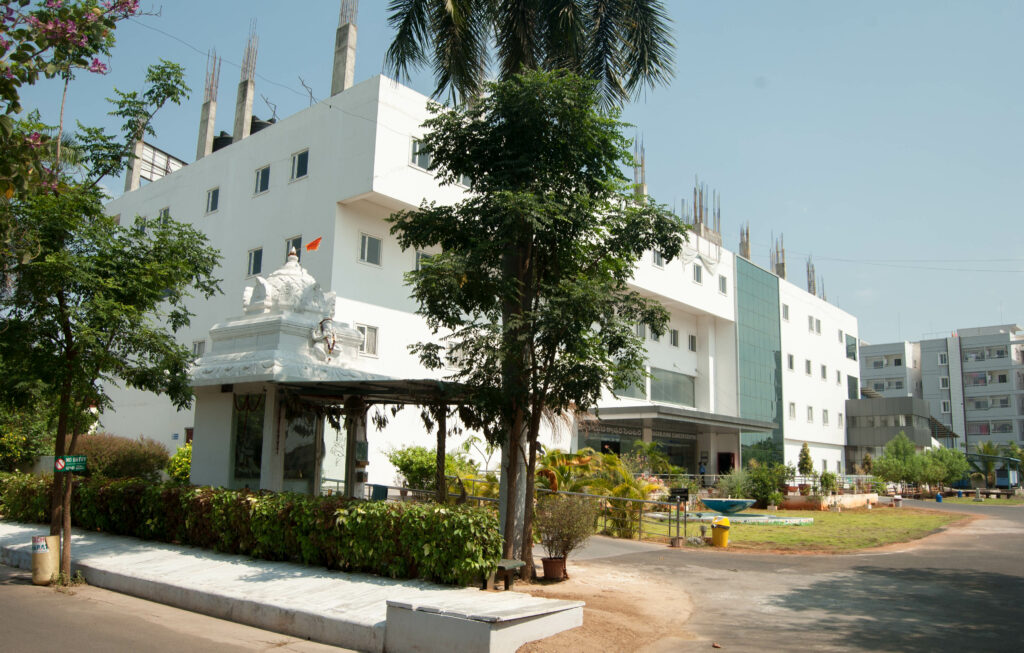 The next day I visited the hospital with an appointment and met the resident oncologist and lay before him all the medical records of my wife. The moment I entered the hospital it had an air of elegance, an exclusive layout unlike what I have seen earlier. The lobby and the broad corridors are bright with natural light, the air had a perfumed scent, and in the waiting area, the seats were neat and comfortable. The nurses were receptive, smiling and promptly received me.
The doctor, perhaps, was in the late thirties, not in a hurry, carried a warm smile; his eyes looked intent and purposeful. I was as much impressed by his relaxed approach as I was at the clinical neatness of the hospital environment.
For over an hour he studied leafing through all the reports so intently and seriously as if he was preparing for an exam. Throughout I sat watching him, the changing expressions in his eyes as he checked through the laboratory findings, reports of X-rays, CT scans, PET scans, MRI scans, and many discharge diagnosis papers, in-patient stay summaries. Once the review was over, he slowly raised the head from the records cast a sympathetic glance at me that stayed on me for a while. With that one look, he summed up what would be the fate of my family and my life in the months to come.
"Admit your wife for a week in the hospital, our team of doctors would assess her condition then we will decide the further course of medical care she requires," after giving consent I came out the hospital, now a relieved man.
"She would like this place, the ambiance, the gardens, the neatness, and the tree-filled shady open spaces" walking toward my car; I thanked my former student in my mind. He saved me suffering from unknown stings of emotional guilt of not being able to protect her self-dignity while consulting the few badly maintained cancer hospitals in our city.
The seven days' stay had given relief as I noticed a gentle smile of my wife after a long time. The doctors spoke in gentle voices, willing to sit with her for a while which reassured her emotionally. The nurses too had extended genuine assistance. My daughter, my son and I took turns for night vigils. In the night times I saw her closing her eyes, floating in the enclosed darkness: relaxingly, contemplating, meditating and chanting the spiritual vows. She seemed ethereally unconcerned, at the moment, about the disease in a hurry to encroach her mortally.
Seven days later she got discharged with assurance whenever the urgency arises they will send a team of nurses and the oncologist himself promised to visit my home which was at a throwing distance from the hospital.
The next fifteen minutes were the most treasured gift of joy I will never forget. Even in that moment of grief, how in many wonderful ways my wife made lives less tiresome and less inconvenient for the caretakers close to her.
The nurse wheeled her down to the portico where I was waiting to drive her back home. Hands on her lap, she grinned at me, had one straight look at the sky as if studying the evening stillness. She took a deep breath, closed her eyes as if smelling the scent of fresh air and asked the nurse to wheel her around the open garden for a while.
The nurse promptly followed my wife's request. It took less than a second to change herself from a woman to a child. As she was pushed around, among the beautiful chaos of disease, patients, despair, she sat back eyed at the trees and let her body relax; she let the sounds fill her ears; she enjoyed the pure fragrance of freedom – her little piece of heaven in the jungle of her illness. She looked brighter after the brief escape; perhaps she has had a premonition she wouldn't have another chance to see the richness of reality.
Melting in those surreal minutes, while she was being wheeled around, both of us took it easy unaware of one cruel fact. In the next six months, her smile will be snatched away by the angel of death, and I have to acknowledge and receive the death certificate and hold it close to my chest and walk away through the same shaded trees.