(Kakinada is one of the largest cities and the district headquarters of East Godavari, in Andhra Pradesh, India. It was a former Dutch settlement. It's the city planned and developed along the western side of the Bay of Bengal endowed with a natural harbor which facilitates an anchorage port and a deep-water port. It is my maternal home town.)
I finally agreed to my son Aditya's proposal to spend three days in his in-law's place at Kakinada to celebrate my grandson Kaushal's second birthday.
"Come out, spend time with people and take it easy for a few days," my son was bent on packing me up for the proposed trip.
I sit tight on a few fussy issues not to be so enthusiastic of getting hauled out even for short periods, from the comfort zone of my home. Summer is roaming fiercely across the whole region, pinned in the car for over four hours – were a few deterrents that don't excite to make any courtesy visits.
In fact, I shouldn't get miffed to go to Kakinada; it's my maternal home town where I was born fifty-eight years ago. It's the place that flashes myriads of memories of my childhood spent in this erstwhile Dutch colony, a sleepy town famously taken as a pensioner's paradise.
Today it's the headquarters of the prosperous East Godavari district, in Andhra Pradesh; it fascinates anyone who enters the city first time for its well-planned, neatly laid parallel roads, and streets cutting across them just like as we see in a grid.
Nothing stayed in my memory so stoutly, stirring so many sentiments, looking back spanning five decades, about the trip – a yearly ritual during summer holidays, to Kakinada. We used to pack in strong iron boxes for a month-long trip: the dresses, the pickles, and the homemade sweets. My younger brother in toe, holding the strings of my mother, we would catch the only train to Kakinada: the Circar Express, introduced in 1967, one of the oldest trains in Indian railways, running between Chennai and Kakinada, since then.
It is the city planned and developed along the western side of the Bay of Bengal endowed with a natural harbor which facilitates an anchorage port and a deep-water port. I felt pleased for the many changes in the past two decades: the city has become a hub for deep sea fishing and boat-making industry and a thriving tourist destination.
I had been to Kakinada, maybe, hundreds of visits, over past decades, but never ventured into the realm of the city's famed fisherman and their boating vessels and people propelling them from behind.
For long I wanted to get on the decks of the mechanized boats, hundreds, anchored, all along the dusty, old wharf road – I could see a few signs of upgrading and renovation.
So during the three-day pause, one early morning, I set out with my photo gear to the backwaters – a canal precisely, named Buckingham canal where the boats stand anchored.
As I walked across the wharves looking at boats parked all of them were under different stages of repair: welding, painting the planks, repairing the nets, oiling the engines, I could see serious activity but nothing to do with fishing. About three hundred vessels parked seemed immersed in some or other repairing busyness.
Puzzled, I jumped onto a deck, approached a decent-looking man giving instructions to others to fasten up the work.
"Can I take a few photographs" he nodded and gave consent with his eyes, 'go ahead.' Next sixty minutes, I went about the boat, hopped onto the adjacent boats clicked as many as could before the warm morning sunlight turned bullish.
I wanted to pause for a while, swallow a gulp of water, wipe the sweat now covered the face down the feet. I traced back and located the gentlemen, who earlier had given the nod, for small talk.
"Why the whole fleet of vessels floating were idle, anchored, and various repairs works in progress." I couldn't stop wondering.
Venkat Rao, was his name, adjusted himself away from work, and took a serious non-verbal posture, meaning I'm in for a long discourse.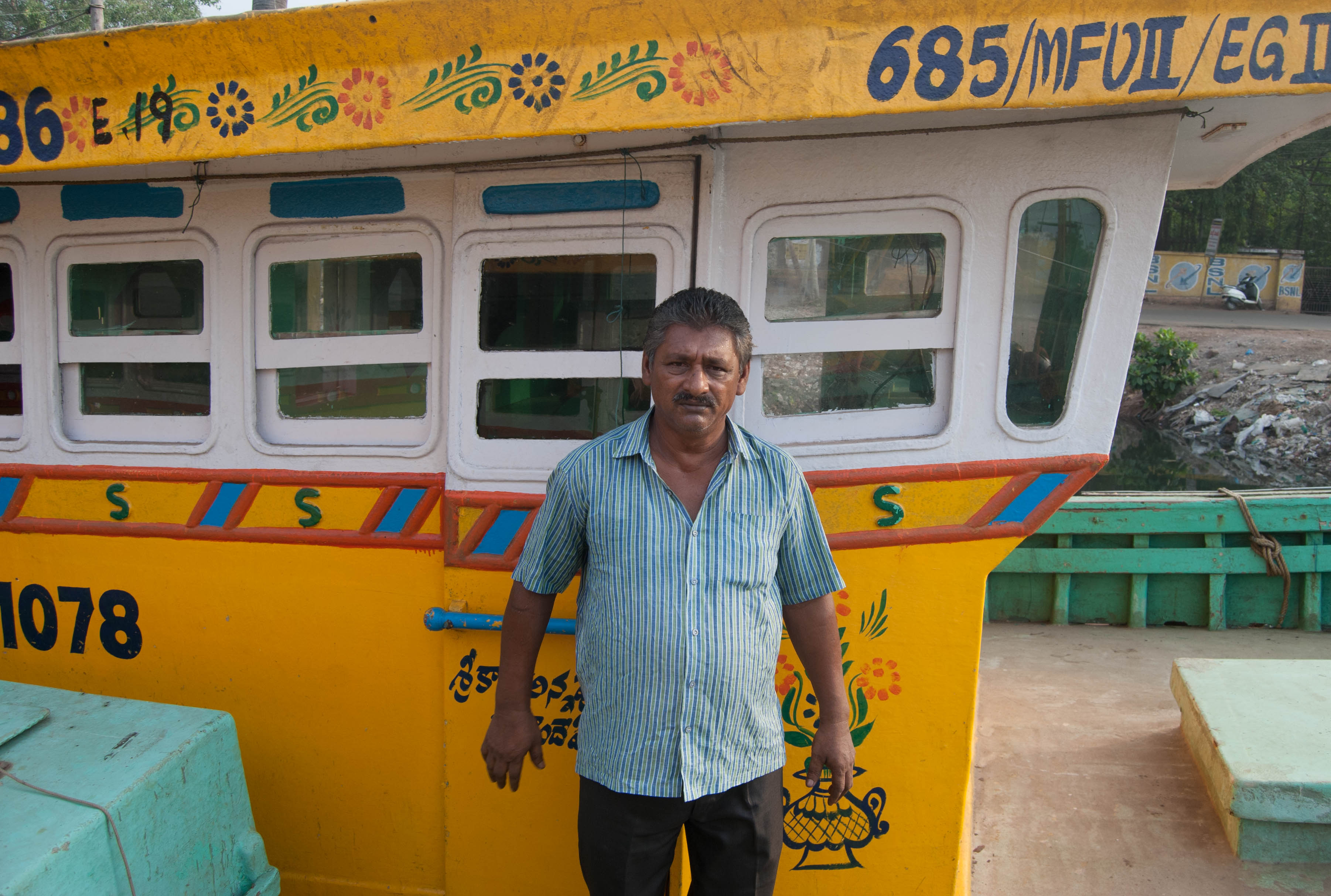 "We are in the middle of a government ban for two months before the season of the fishing voyage starts", he cleared my puzzle why no one was sailing, "in this ban period we must repair our boats, engines, ropes, nets, paint the exterior, confirm the sail worthiness of each boat".
Venkat Rao seemed highly vocal, well updated on the political scenario both regional and national; now in the electioneering season and as well as in his craft – captaining the boat and fishing.
During the ban period, the Government provides Rs.4000 for all the crew of the boat of around twelve, besides the boat owner who pays the commission fee. The city accounts for 450 mechanized boats with medium-sized horsepower engines and 100 with a heavy duty, upgraded horsepower diesel engines.
He had a grouse against these superior engine boats who reach faster, deeper into the sea get the catch faster and better. "Our low-speed boats suffer the disadvantage of not able to have a good catch."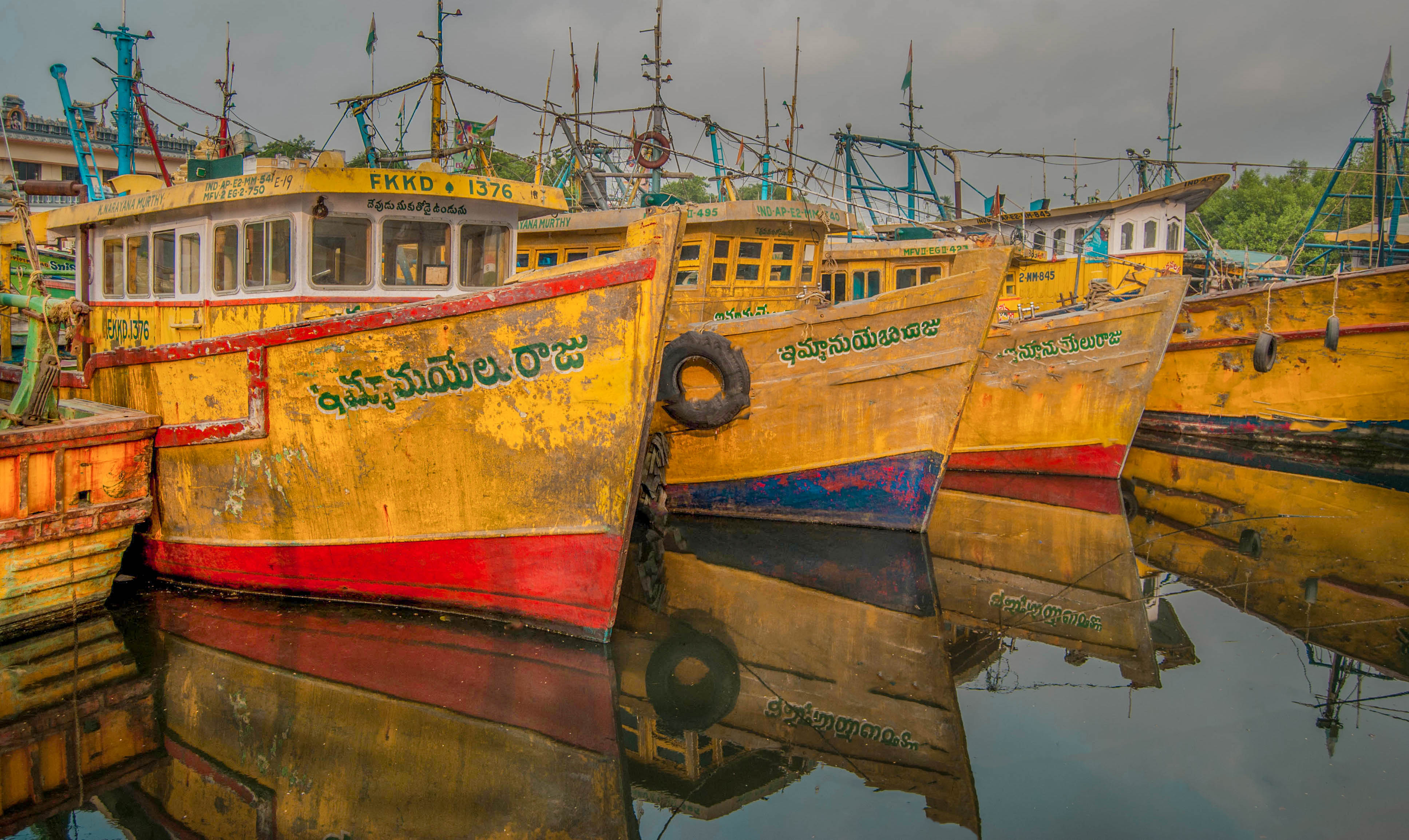 'What are the costs involved here" I was interested in the business part of sea-surfing.
The money involved was staggering. Run into lakhs. (One Lakh Indian Rupees is about 1400 Dollars)
"Each boat would cost around one crore (100 lakhs); repairs costs could reach about five lakhs each year. For each catch they set out on a ten-day voyage, permitted going up to 23 KM into the sea, hoarding nearly 8000 liters of diesel for the round trip, and huge quantities of ice for storage of fish. It all adds up to 15 lakhs stake for each journey."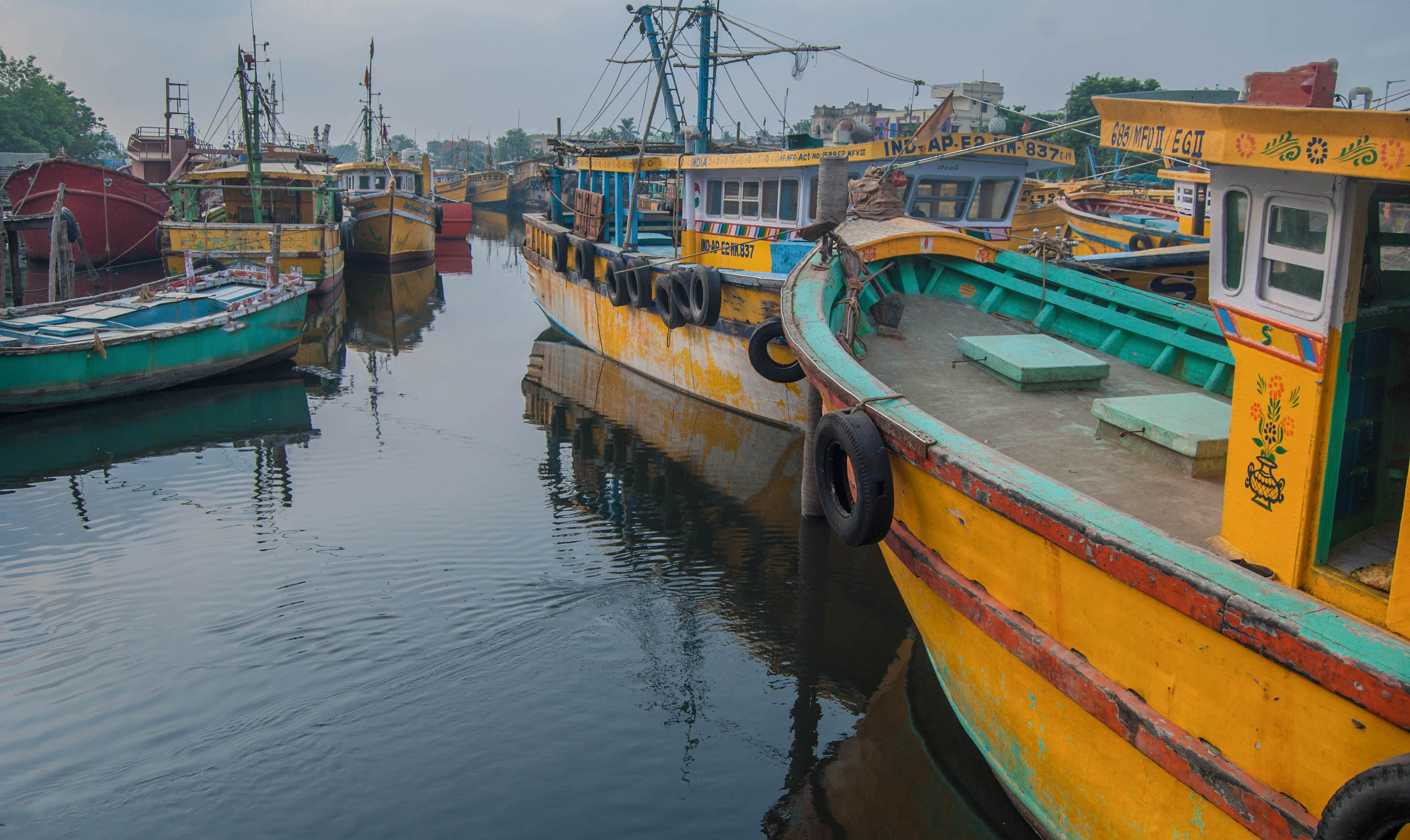 Usually, the profits depend upon the type and quantity of fish they catch, like big and small white pomfret fish (Rs.1000 per Kg.) big shrimp, giant tiger prawns, wild sea bass fish, tuna,(Rs.300 t0 400 kg.) in a trip they are expected to harvest three to four tons of fish, cleaned and stored before they reach the shore.
Venkat Rao, pointing at his huge boat, spells out; it's dangerous, expensive, unpredictable business. For whole ten days, they hardly take a bath, eat the packaged food, but with advanced technology in use: the GPS, high-end satellites phones, prompt meteorological information, early warnings systems, he is thankful, now their lives are more insured than what was a decade ago.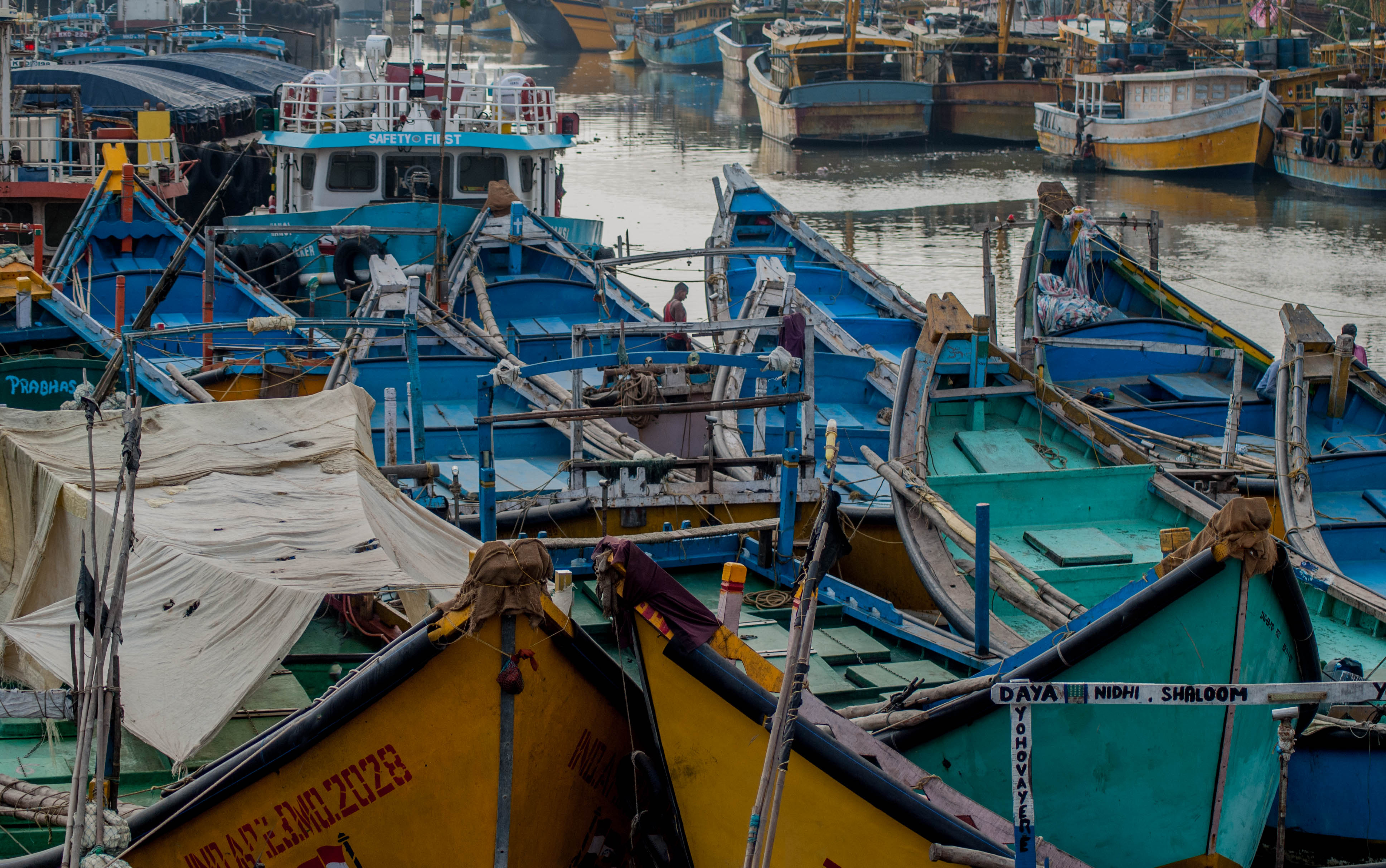 How about the calamities amidst bad weather?
I could see a poignant twist on his face, facing a storm we have to return to shore; the decision arrived on a consensus among the crew members. If the calamity hovers dangerously, even if the boat owner insists, being commercially partial, we will get back to shore.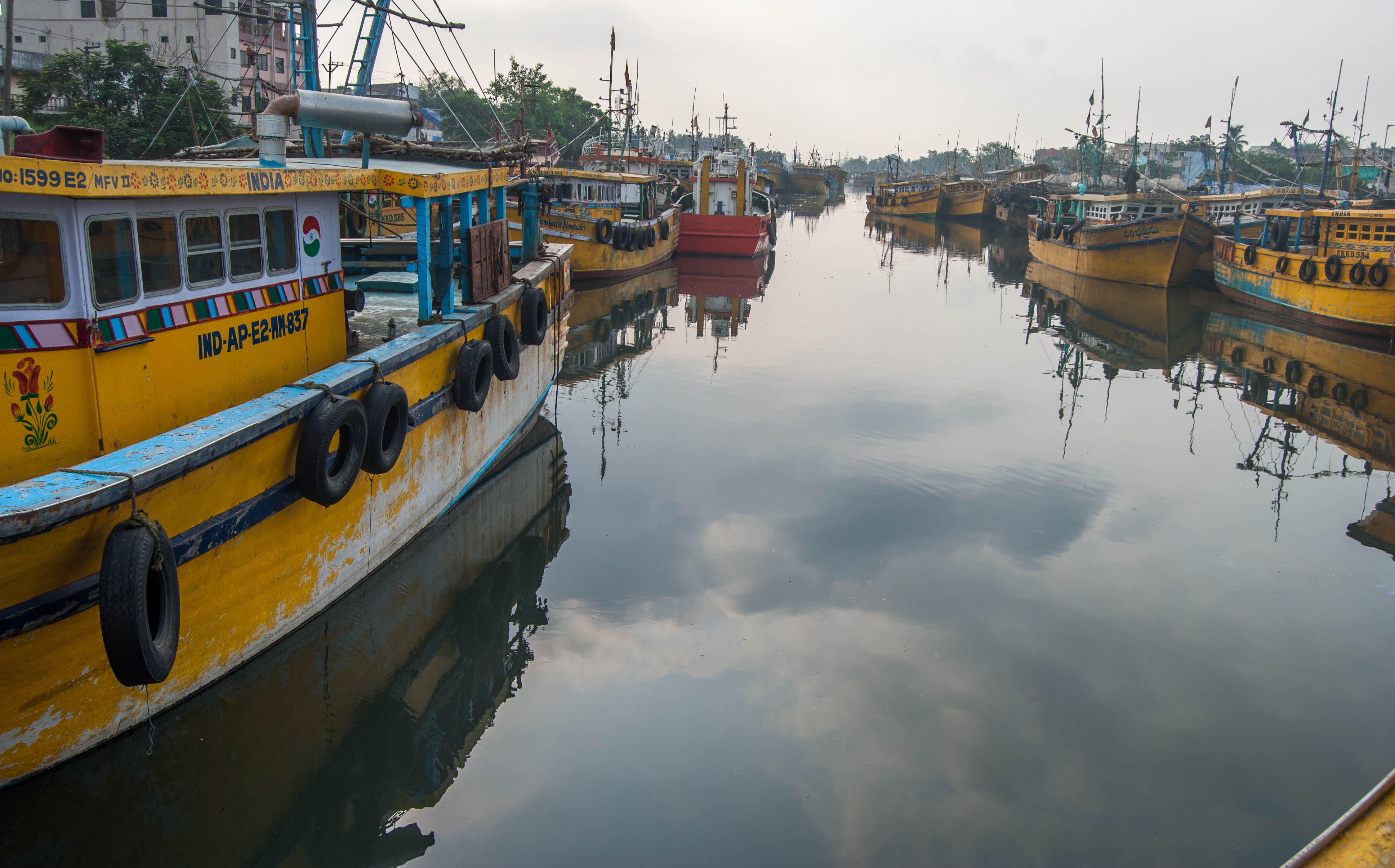 If one crew member loses his life during a storm, the compensation of five lakhs will be paid immediately by the authorities. If in case of a casual death in the sea at normal times, to claim the insurance we have to circle the fisheries department and their officials for two to four years.
"Although we provide to the government, a cumulative effort of 70,000 fishermen in Andhra Pradesh, assuring annual revenue of over 3000 crores, the protective and security blanket around us is hardly equivalent for the risk we expose ourselves every day." Now his words sounded a tad pessimistic.
Venkat Rao and his men in every fishing season spend weeks on the sea, suffer sleepless nights, work in the harshest, oppressive conditions, rain, cold, heat, risky, cut off from the land floating on high waves on end. Their returns are in their catch; they work on commission: 10% of the value of the catch. If they get a good catch, the fishermen will earn enough to survive to the next voyage, but if they get a bad catch, it may be bad times for their family unit.
He concludes finally, "its mad stressful life what I chose." The way his life dominated by water and waves, of the absence of being away from children and family. Sometimes it makes me think, looking at stars surrounded by the roar of waves, "will I ever make a good father." So when I'm on shore, at home, I'll put in a little extra action to enjoy a good time with my wife and children. I felt those words didn't come out with enough courage, in reality, given his living conditions, he knew, he could never provide a secure cover for his family.